Erving Industries – A recycling project with a twist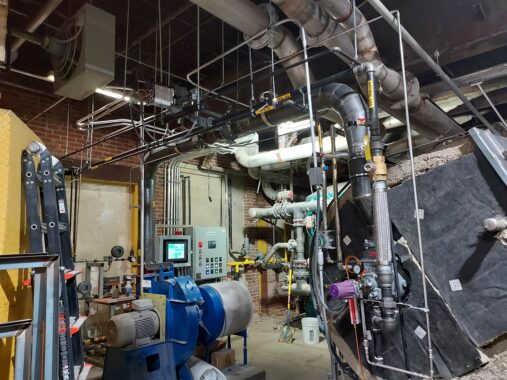 This investment was not a multi-billion dollar deal, contained no artificial intelligence, and had no patented technological development. It did, however, offer the potential to be a good return on investment by repurposing scrapped equipment from one mill to upgrade a tissue machine in another. In brief, it was a historically typical paper mill machine upgrade that strengthened the future of a small company competing against much larger and more modern operations. Mid-South Engineering's Orono, Maine office was ideally suited for this project, with a seasoned staff of former pulp and paper mill engineers offering broad experience in paper machine rebuilds.
Erving Industries of Erving, Mass. had for many years been competing with tissue products from Lincoln Paper & Tissue, LLC. When the Lincoln mill closed in 2015 and filed for bankruptcy protection, Erving Industries leadership saw an opportunity to acquire the same tissue-making equipment from Lincoln that they were competing against.
Yes, it was secondhand equipment, but it was in much better condition than what Erving currently operated on their PM3. All that they needed to do was purchase the equipment, move it to Erving, Mass and install it. Well, it is never that easy — so, Erving's project engineer, Dave Capparrille, did some due diligence and determined that the idled equipment was still in good condition and would fit on Erving's PM3 with only minor modifications. The question now was, would it perform better than what they had? Or would they just be wasting their time? While there is always a risk, Erving was willing to take it, particularly at bargain basement pricing.

Pictured above are Walter Goodine (left), Engineering Manager for Mid-South's Orono office, and Dave Capparrille (right), Project Manager for Erving Industries, standing in front of the new fourdrinier and headbox on Erving's tissue machine.
The shopping list from Lincoln included a headbox, fourdrinier, winder, and calendar. The purchase was finalized in 2017 and the equipment was quickly removed and moved to Erving, Massachusetts.
Although Erving expected an improvement in tissue product quality from the Lincoln equipment, an increase in production was needed to justify the costs of this machine modernization. A machine drying evaluation by Andritz showed that production could improve by up to 25% with a replacement of the Yankee hood and associated drying equipment. Purchase of a new hood, fans, ductwork, and burner system was then added to complete the project scope. At this point, all Erving needed to do was install and begin operation. Well, again, it is never that easy.
It was at this point when Mr. Capparrille approached Mid South and, after describing their purchase, asked if we would be interested in helping out. With a group of experienced pulp and paper mill engineers, who cut their teeth on retrofitting used equipment in pulp and paper mills, the Orono, ME Mid-South office did not take long to think it over: "Yeah, we might be able to help", "got any drawings?", "some, but not everything and we don't know if any modifications were made", "hmmm, yeah, we're used to that, let's get started."
Relationships with clients are always different, and this time, there seemed to be an immediately positive and mutually cooperative connection between Erving's project manager and Mid-South staff. We got to work on Erving's behalf before the formal PO was even established.
To verify physical arrangements and installation details, Mid-South staff made a trip to Erving's mill to see the unassembled equipment and another trip to the now-abandoned Lincoln mill to see where and how it had been previously installed. The Lincoln mill was dark, cold, and in a state of disrepair, but the trip proved valuable.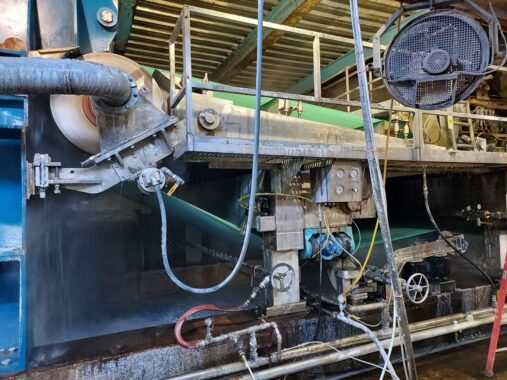 Throughout the project, Mid-South provided mechanical, process, and structural engineering and design. Electrical and controls engineering was handled internally by Erving personnel.
Erving directed Mid-South to prioritize engineering design in support of the new (used) winder, calendar, unwind reel, and supporting equipment. This phase of the Mid-South engineering was complete in 2018 and the equipment installation followed soon after. Erving's engineering team managed installation and start-up.
In 2019, Mid-South continued the engineering effort for all replacements and upgrades to the wet end of PM3. Keeping the existing soleplates was integral to limiting the machine downtime. Despite some centerline differences between old and new, it was possible to re-use the existing soleplates. Erving's low headroom basement location of PM3 had several accessibility limitations, creating difficulties in moving equipment into the building and rigging/jacking heavy equipment into the final position while protecting it from damage, particularly the headbox. The greatest exposure in this project was the installation of the new headbox, as any significant damage could set the project back considerably.
As purchased, the headbox was too wide for PM3, and the top section was shipped to MecFab in Quebec where it was machined to match the Erving machine width. The middle section was unused and still like-new after being purchased by Lincoln circa 1990 but never installed. The bottom section was designed by Mid-South to match existing soleplates and rigidly support the operating weight and dynamics of the assembled headbox. All new structural members were fabricated by Erving's contracted shop. The final headbox installation would involve fitting, aligning, and bolting these three pieces together in their final locations on the machine. A paper machine headbox establishes the paper quality, any minor flaws in alignment, assembly or surface finishes can significantly impact the quality of the final product. Contractor selection must incorporate the ability to meet installation sensitivities.
For the installation phase of the project, Mid-South assisted with vetting contractors and evaluating qualifications. A shutdown period between November and December 2021 was selected by Erving. Many contractors saw this project as too small, or outside of their field of expertise. It would require heavy man-loading for a relatively short period, half of which would be 24/7 for two weeks. With space constraints, only so many people can be working in the same area. Out of eight contractors, three submitted proposals and finally, Wright-Spec LLC was selected. Pre-assembly work was performed on the headbox and fourdrinier equipment to ensure proper fit-up at installation. The shutdown began the day before Thanksgiving and lasted for 17 days. Mid-South provided site construction assistance for portions of the outage involving installation, providing direction to the contractor, and assisting the mill project team. Initial start-up went unbelievably smoothly, as noted by Erving's president:
"Perhaps the most impressive part is that in all the paper industry journals, magazines and articles that I've ever read, I have never heard of a paper machine rebuild starting up, running and producing a saleable roll of paper on its second reel. This is unheard of!"
Mid-South is proud to have been a part of this project and believes that our innovation and experience provided unique value in areas where other engineering consultants would struggle. We limited client engineering costs by providing only what was needed to meet the requirements for installation while working cooperatively with Erving's project manager in establishing the extent of their needs. Truly a win-win project for Erving and Mid-South.
NewslettersJul 15th, 20220 comments