Category Archives: Newsletters
WOODLAND, WA — June 22, 2023. Wood Technologies International ("Wood Technologies" or
"the Company"), a comprehensive supplier of modern lumber processing equipment, technology, and essential tooling, has announced President Dale Brown has been appointed CEO of the Company, effective June 30, 2023. Outgoing CEO Craig Tompkins will serve as a Strategic Advisor to the Board of Directors of Wood Technologies to help continue to guide the company. "We are proud to have Dale step into this role after eight years of leadership at the Company," said Rob Sivitilli, Chairman of the Board of Wood Technologies. "We thank Craig for his efforts at leading the effective integration efforts after the merger of USNR and Wood Fiber Group and for helping drive two subsequent complementary acquisitions, all which built Wood Technologies into an industry leader today."
Brown has had a 37-year tenure with Wood Technologies and predecessor company USNR, starting his career there in 1986 as an accounting data entry clerk, working his way up through various roles in USNR's accounting, sales and executive operations departments. Past positions included Chief Accountant, Controller, Vice President, Senior Vice President, and CEO of USNR in 2018. Brown was named President of Wood Technologies upon the USNR/Wood Fiber Group merger in 2021. "I thank the Board for entrusting me as the next leader of Wood Technologies, and I look forward to working with our great team whose hard work has contributed to our success," said Brown. "Craig has been a first-rate colleague over the last year as we've built an industry leader with tremendous potential. I thank him for his efforts and wish him well in retirement."
Tompkins helped spearhead the merger of Wood Technologies' predecessor companies: mill automation, equipment supplier and technology system integrator USNR, and sawmill parts supplier/manufacturer Wood Fiber Group, in November 2021. This combination of highly complementary product offerings and customer bases enabled Wood Technologies to become a leading supplier in the industry, with 1,500 employees and 30 operating sites. Tompkins also helped lead and integrate Wood Technologies' July 2022 acquisitions of Timber Automation, a provider of custom engineered equipment, aftermarket parts, controls and optimization systems; and The Knife Source, a manufacturer of machine knives used in waste wood chipper machines and brush chipper equipment.
"Craig's skill in uniting Wood Technologies' predecessor businesses created a leading wood processing brand well positioned for future growth," said Brown. "Craig fostered a positive business culture enabling strong performance, evidenced by strong revenue growth and record levels of backlog over the last few years. He leaves a great legacy at Wood Technologies that we will work steadfastly to maintain."
"I am immensely proud of my time at Wood Technologies, where I got to work with fantastic people— including Dale—over the past eight years," Tompkins said. "With Dale at the helm, I can walk away confident that the company is in great hands and that it will achieve even greater success."
To learn more, visit woodtechnologies.com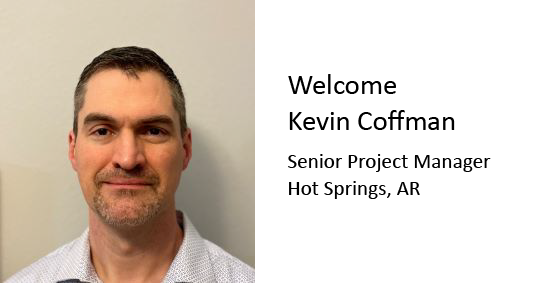 Mid-South Engineering is excited to announce that Kevin Coffman has joined the company as a Senior Project Manager. He officially became part of the team late in the summer of 2022 and has already made a huge impact on the team's growth.
Kevin completed his Mechanical Engineering Technology Degree at Oregon Institute of Technology in Klamath Falls, Oregon, while competing in basketball and track & field. He also worked as a CNC plasma table programmer and operator, and as a welder/fitter for a steel fabricator, building various types of sawmill and dust collection equipment.
Kevin started his engineering career as a project engineer/project manager with an air pollution control OEM/chemical engineering company located in Washington state. Their primary focus was to supply custom solutions in the engineered wood and pulp and paper industries. Kevin provided air pollution control equipment product management and system standardization to efficiently provide turn-key solutions for various applications. He also worked as a turn-key project manager to support sales relationships, equipment fabrication, site construction, and start-up commissioning activities.
He then transitioned to VP of Operations at a fabrication, construction, and dust collection systems OEM company in Oregon. As a member of the leadership team Kevin oversaw the daily operations of the inside-sales/estimating, procurement, fabrication, and quality control teams. During this time Kevin supported the expansion of fabrication capacities with a new capital equipment and processes as well as a new fabrication operation in Louisiana.
Kevin then joined a recycling systems and equipment supplier as Director of Projects. He successfully managed green field site installations, start-up, and commissioning activities across North America and Western Europe of custom engineered solutions to some of the world's most difficult waste recovery operations. These recovery and sorting systems included state-of-the-art rotating screens, optical sorters, and AI driven robotic sorters.
Kevin, his wife, and their three children now live in Hot Springs, Arkansas, where Kevin can work directly with the team on some of the company's biggest projects.
Join us in welcoming Kevin to Mid-South Engineering!

Visit us in booth # 905 at the Timber Processing & Energy Expo. Our staff of seasoned engineers will be on hand to discuss how Mid-South can help with your current and future projects.
Chris Brown, Vice President at Mid-South, will be speaking as part of the Sawmill of the Future conference on Thursday, September 29 from 9:20-9:45 a.m. Chris will explore what the future may hold regarding the balance between manufacturing and maintainability during his session titled "Simplicity is the Ultimate Sophistication."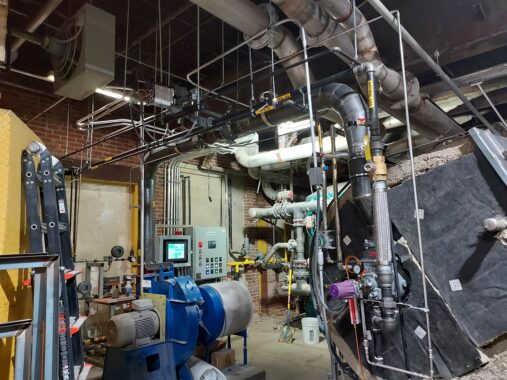 This investment was not a multi-billion dollar deal, contained no artificial intelligence, and had no patented technological development. It did, however, offer the potential to be a good return on investment by repurposing scrapped equipment from one mill to upgrade a tissue machine in another. In brief, it was a historically typical paper mill machine upgrade that strengthened the future of a small company competing against much larger and more modern operations. Mid-South Engineering's Orono, Maine office was ideally suited for this project, with a seasoned staff of former pulp and paper mill engineers offering broad experience in paper machine rebuilds.
Erving Industries of Erving, Mass. had for many years been competing with tissue products from Lincoln Paper & Tissue, LLC. When the Lincoln mill closed in 2015 and filed for bankruptcy protection, Erving Industries leadership saw an opportunity to acquire the same tissue-making equipment from Lincoln that they were competing against.
Yes, it was secondhand equipment, but it was in much better condition than what Erving currently operated on their PM3. All that they needed to do was purchase the equipment, move it to Erving, Mass and install it. Well, it is never that easy — so, Erving's project engineer, Dave Capparrille, did some due diligence and determined that the idled equipment was still in good condition and would fit on Erving's PM3 with only minor modifications. The question now was, would it perform better than what they had? Or would they just be wasting their time? While there is always a risk, Erving was willing to take it, particularly at bargain basement pricing.

Pictured above are Walter Goodine (left), Engineering Manager for Mid-South's Orono office, and Dave Capparrille (right), Project Manager for Erving Industries, standing in front of the new fourdrinier and headbox on Erving's tissue machine.
The shopping list from Lincoln included a headbox, fourdrinier, winder, and calendar. The purchase was finalized in 2017 and the equipment was quickly removed and moved to Erving, Massachusetts.
Although Erving expected an improvement in tissue product quality from the Lincoln equipment, an increase in production was needed to justify the costs of this machine modernization. A machine drying evaluation by Andritz showed that production could improve by up to 25% with a replacement of the Yankee hood and associated drying equipment. Purchase of a new hood, fans, ductwork, and burner system was then added to complete the project scope. At this point, all Erving needed to do was install and begin operation. Well, again, it is never that easy.
It was at this point when Mr. Capparrille approached Mid South and, after describing their purchase, asked if we would be interested in helping out. With a group of experienced pulp and paper mill engineers, who cut their teeth on retrofitting used equipment in pulp and paper mills, the Orono, ME Mid-South office did not take long to think it over: "Yeah, we might be able to help", "got any drawings?", "some, but not everything and we don't know if any modifications were made", "hmmm, yeah, we're used to that, let's get started."
Relationships with clients are always different, and this time, there seemed to be an immediately positive and mutually cooperative connection between Erving's project manager and Mid-South staff. We got to work on Erving's behalf before the formal PO was even established.
To verify physical arrangements and installation details, Mid-South staff made a trip to Erving's mill to see the unassembled equipment and another trip to the now-abandoned Lincoln mill to see where and how it had been previously installed. The Lincoln mill was dark, cold, and in a state of disrepair, but the trip proved valuable.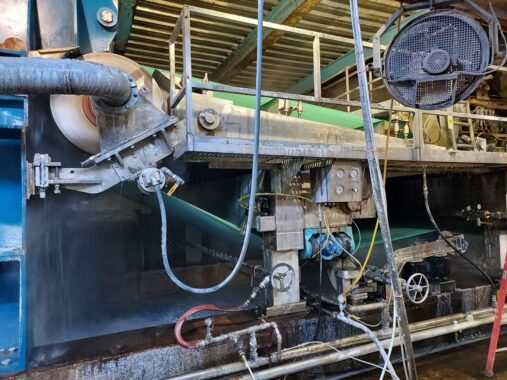 Throughout the project, Mid-South provided mechanical, process, and structural engineering and design. Electrical and controls engineering was handled internally by Erving personnel.
Erving directed Mid-South to prioritize engineering design in support of the new (used) winder, calendar, unwind reel, and supporting equipment. This phase of the Mid-South engineering was complete in 2018 and the equipment installation followed soon after. Erving's engineering team managed installation and start-up.
In 2019, Mid-South continued the engineering effort for all replacements and upgrades to the wet end of PM3. Keeping the existing soleplates was integral to limiting the machine downtime. Despite some centerline differences between old and new, it was possible to re-use the existing soleplates. Erving's low headroom basement location of PM3 had several accessibility limitations, creating difficulties in moving equipment into the building and rigging/jacking heavy equipment into the final position while protecting it from damage, particularly the headbox. The greatest exposure in this project was the installation of the new headbox, as any significant damage could set the project back considerably.
As purchased, the headbox was too wide for PM3, and the top section was shipped to MecFab in Quebec where it was machined to match the Erving machine width. The middle section was unused and still like-new after being purchased by Lincoln circa 1990 but never installed. The bottom section was designed by Mid-South to match existing soleplates and rigidly support the operating weight and dynamics of the assembled headbox. All new structural members were fabricated by Erving's contracted shop. The final headbox installation would involve fitting, aligning, and bolting these three pieces together in their final locations on the machine. A paper machine headbox establishes the paper quality, any minor flaws in alignment, assembly or surface finishes can significantly impact the quality of the final product. Contractor selection must incorporate the ability to meet installation sensitivities.
For the installation phase of the project, Mid-South assisted with vetting contractors and evaluating qualifications. A shutdown period between November and December 2021 was selected by Erving. Many contractors saw this project as too small, or outside of their field of expertise. It would require heavy man-loading for a relatively short period, half of which would be 24/7 for two weeks. With space constraints, only so many people can be working in the same area. Out of eight contractors, three submitted proposals and finally, Wright-Spec LLC was selected. Pre-assembly work was performed on the headbox and fourdrinier equipment to ensure proper fit-up at installation. The shutdown began the day before Thanksgiving and lasted for 17 days. Mid-South provided site construction assistance for portions of the outage involving installation, providing direction to the contractor, and assisting the mill project team. Initial start-up went unbelievably smoothly, as noted by Erving's president:
"Perhaps the most impressive part is that in all the paper industry journals, magazines and articles that I've ever read, I have never heard of a paper machine rebuild starting up, running and producing a saleable roll of paper on its second reel. This is unheard of!"
Mid-South is proud to have been a part of this project and believes that our innovation and experience provided unique value in areas where other engineering consultants would struggle. We limited client engineering costs by providing only what was needed to meet the requirements for installation while working cooperatively with Erving's project manager in establishing the extent of their needs. Truly a win-win project for Erving and Mid-South.
Mid-South would like to congratulate Scott Stamey (pictured above at the far left) on being named President of Professional Engineers of North Carolina for the 2022-2023 term. Scott is a vice president of Mid-South and is an active member of PENC, having been a member for more than ten years. Scott's commitment to the engineering profession and support of the local PE chapter has been a fulfilling and worthwhile endeavor.
"We have an amazing collection of members who inspire me to be a better engineer and person, and I believe in our mission now more than ever. If you're a PE in North Carolina and haven't joined PENC, please consider it. I'm very excited about this upcoming year and honored to have the chance to lead."
– Scott Stamey, Vice President, Mid-South Engineering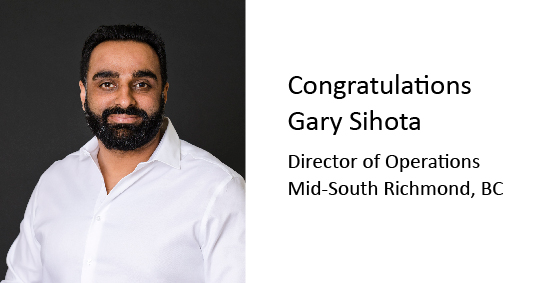 Gary Sihota will assume the role of Director of Operations at our Richmond, BC office. Gary has been with Stolberg/Mid-South for 11 years and is a licensed P.Eng with a PMP certification. His established industry connections and focus on business development will help to see continued growth in the Richmond office under his leadership.
Gary started his career as a design engineer, progressing to project manager, and now works in engineering consulting with Mid-South. His engineering experience ranges from sawmills and planermills to pellet plants and veneer plants.
Join us in congratulating Gary on his promotion to Director of Operations of our Richmond, BC office.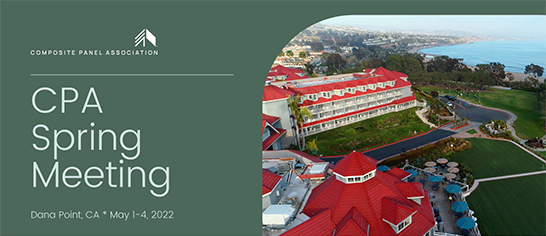 See us at the upcoming Composite Panel Association's Spring Meeting – May 1-4
Mid-South is participating in the CPA's Spring Meeting this year. The meeting will be held in Dana Point, CA at the Laguna Cliffs Marriott from May 1-4. We hope to see you there and learn more about all of your exciting current and future projects.
Stop by our display to learn how Mid-South can help take your project to the next level with our wide range of consulting engineering services. From drone imagery and 3D scanning to construction coordination and project management, our experience and expertise works for you.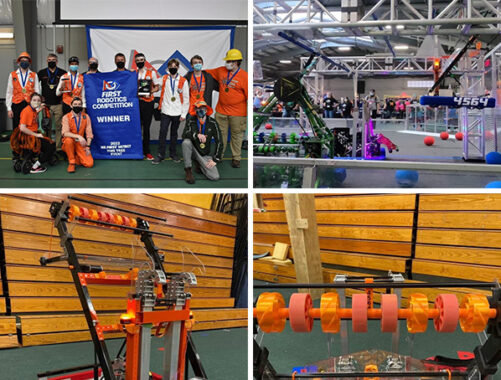 Two Mid-South employees, Everett Bennett and Alex Carroll, mentor a First Robotics Competition (FRC) team. FIRST® inspires young people to be science and technology leaders and innovators by engaging them in exciting mentor-based programs that build science, engineering, and technology skills, inspire innovation, and foster well-rounded life capabilities including self-confidence, communication, and leadership. The team from Brewer High School, Team 4564 Orange Chaos, is sponsored by Mid-South. Everett and his son Drew, a Mid-South Scholarship recipient, started the team in 2012. Everett is the Lead Mentor and a mechanical mentor. Alex started mentoring the team in mechanical and 3D CAD in 2021.
The team had a very successful weekend at the Pine Tree Qualifying event, the team's first live competition in two years due to Covid. The team qualified 9th out of the field of 26 robots after 12 qualifying matches. The team was the first pick of the third alliance captain in their effort to build a winning alliance of three robots for the playoff matches. Their alliance went on to defeated the sixth alliance, then the second ranked alliance and finally the first ranked alliance, all in double eliminations, to win the entire competition. This is the team's third qualifier win in the team's 10-year history. The win ranks the team 9th out of 185 teams in the New England District and earns the team an invite to participate in the New England District Championship in Massachusetts. The team has earned multiple judged awards for various design and competition aspects of their robots over the years.
In FRC, a new "Challenge" is revealed globally the first Saturday of each year. Teams have 7 weeks to design, construct, program and test their robot to complete the challenge. Robots compete in an alliance with two other robots against an opposing alliance of three robots on a 27′ x 54′ competition field where game pieces are manipulated by the robots into various elements on the field to score points.

Mid-South will be exhibiting at the Mass Timber Conference from April 12 – 14, and we would love to talk with you about your mass timber projects. Our design expertise extends through engineered products and the mass timber sectors, including CLT, glulam, LVL, MPP and LSL.
Stop by booth #1026 to learn how Mid-South can help take your project to the next level with our wide range of consulting engineering services. From drone imagery and 3D scanning to construction coordination and project management, our experience and expertise works for you.

Mid-South will be exhibiting at the Wood Bioenergy Conference and Expo from March 29 – 30, and immediately following that will be at the Panel and Engineered Lumber International Conference & Expo from March 31 – April 1.
Stop by booth #215 to learn how Mid-South can help take your project to the next level with our wide range of consulting engineering services. From drone imagery and 3D scanning to construction coordination and project management, our experience and expertise work for you.