Welcome Kevin Coffman to Mid-South Engineering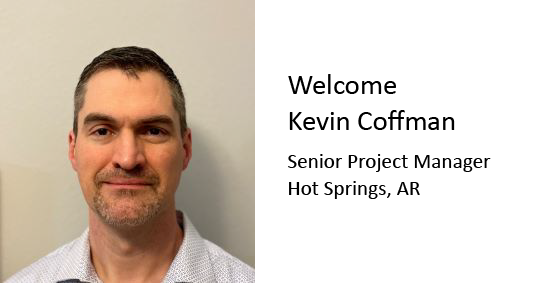 Mid-South Engineering is excited to announce that Kevin Coffman has joined the company as a Senior Project Manager. He officially became part of the team late in the summer of 2022 and has already made a huge impact on the team's growth.
Kevin completed his Mechanical Engineering Technology Degree at Oregon Institute of Technology in Klamath Falls, Oregon, while competing in basketball and track & field. He also worked as a CNC plasma table programmer and operator, and as a welder/fitter for a steel fabricator, building various types of sawmill and dust collection equipment.
Kevin started his engineering career as a project engineer/project manager with an air pollution control OEM/chemical engineering company located in Washington state. Their primary focus was to supply custom solutions in the engineered wood and pulp and paper industries. Kevin provided air pollution control equipment product management and system standardization to efficiently provide turn-key solutions for various applications. He also worked as a turn-key project manager to support sales relationships, equipment fabrication, site construction, and start-up commissioning activities.
He then transitioned to VP of Operations at a fabrication, construction, and dust collection systems OEM company in Oregon. As a member of the leadership team Kevin oversaw the daily operations of the inside-sales/estimating, procurement, fabrication, and quality control teams. During this time Kevin supported the expansion of fabrication capacities with a new capital equipment and processes as well as a new fabrication operation in Louisiana.
Kevin then joined a recycling systems and equipment supplier as Director of Projects. He successfully managed green field site installations, start-up, and commissioning activities across North America and Western Europe of custom engineered solutions to some of the world's most difficult waste recovery operations. These recovery and sorting systems included state-of-the-art rotating screens, optical sorters, and AI driven robotic sorters.
Kevin, his wife, and their three children now live in Hot Springs, Arkansas, where Kevin can work directly with the team on some of the company's biggest projects.
Join us in welcoming Kevin to Mid-South Engineering!
NewslettersFeb 16th, 20230 comments