Category Archives: Newsletters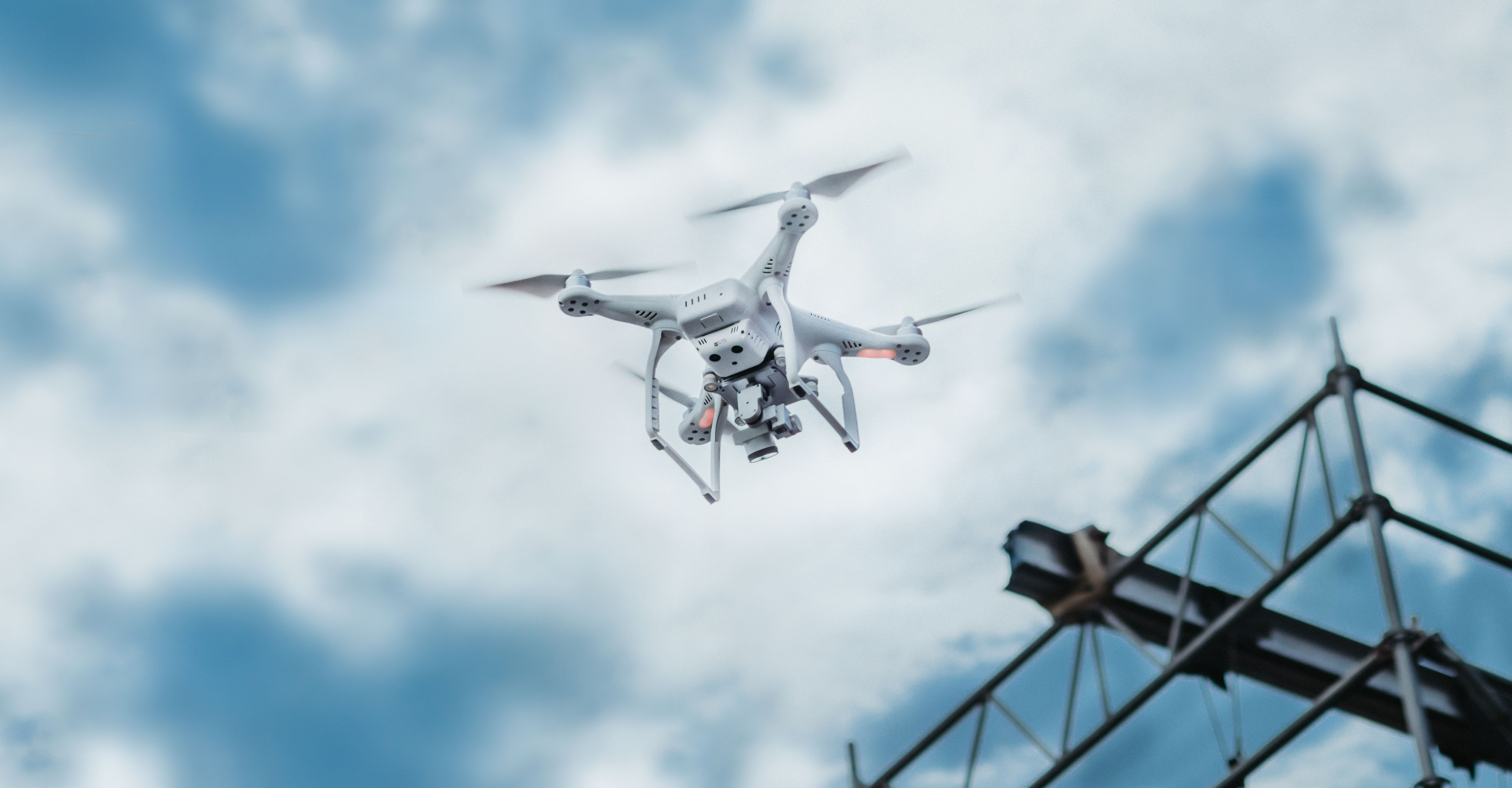 Mid-South has recently added unmanned aerial vehicles (drones) to our engineering toolkit. Drone imagery has proven to be an effective complement to traditional site documentation for many ongoing engineering projects. The images captured provide complete and up-to-date high-resolution pictures that are continuously referenced through the life of the project. Time on site can be reduced by allowing preliminary site data to be taken directly from the flight images, including layout, lengths and elevation profiles. Simple 3D modeling is even possible with processed drone image sets, providing a new preliminary visualization tool.
Whether you want to capture an existing layout, monitor construction progress, or inspect an area of your site that would otherwise be hard to access, contact us today to set up a flight of your site by one of our licensed drone pilots.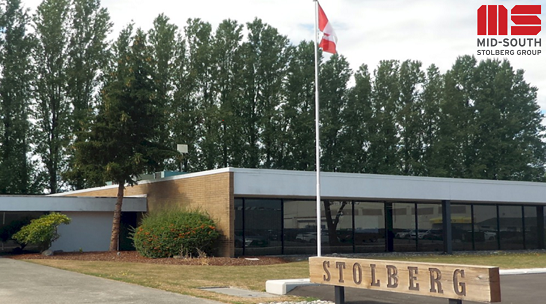 Mid-South Engineering of Hot Springs, Arkansas, is pleased to announce that it has acquired Canada's Stolberg Engineering. Going forward, Stolberg Engineering will operate from its office in Richmond, BC, as the Mid-South Engineering Stolberg Group, where it will continue to be led by industry veterans Norm Stolberg and Rod Gronlund.
Marc Stewart, President of Mid-South Engineering, commented, "The Stolberg team is widely respected and the company has a rich history over the nearly 40 years it has been providing engineering services to the building products and wood pellet industries. This acquisition really strengthens our team and launches Mid-South into a whole new region." ​
Marc explained further that the combination is expected to allow Mid-South and Stolberg team members to expand their professional experiences by being part of a broader team – both groups will be able to bring additional expertise and services both to their respective existing clients, and to new clients in wood products related industries.​  Together, Mid-South and Stolberg can handle the challenges of large-scale industrial projects across virtually all of the wood processing regions in North America.
Says Rod Gronlund of Stolberg, "I'm really looking forward to being a part of this larger combined organization: I think our clients will appreciate the greater depth, capacity, and range of services that we will be able to offer as part of Mid-South. It will be great to see the Stolberg legacy continue on." Norm Stolberg adds, "I think our construction background and experience in the industry will bring another facet to the combined group and we look forward to continued growth and enhanced opportunities as we integrate the legacies of these two great companies."
All Stolberg staff will continue to work out of the company's existing offices in Richmond, BC, and will carry on serving clients with ongoing projects.  The cohesion of these two independent engineering firms will enhance the wood processing industry with coordinated and professional engineering services that are second to none.
Mid-South Engineering. Experience and innovation working for you.
Stolberg Engineering was founded in 1980 as an offshoot of Stolberg Construction, which had been building plants and installing equipment for the wood products industry across Western Canada since the late 1940s. Today Stolberg employs 21 engineers, draftsmen, project managers, and support staff, including four licensed engineers, and regularly serves clients across Canada, the Northwest U.S., Australia, and New Zealand. For more information about the Stolberg Group, please contact Norm Stolberg or Rod Gronlund at 604-273-1915.
Since 1969 Mid-South Engineering has served as a trusted independent consultant to the wood products industry, delivering a full range of engineering services, including civil, structural, mechanical, electrical, and architectural engineering, project development, project management, and construction services. Mid-South is headquartered in Hot Springs, Arkansas, and has additional offices near Raleigh, North Carolina, Bangor, Maine, and now with the addition of the Stolberg Group, near Vancouver, BC, as well. Since 2017, Mid-South Engineering has been an independently managed, but wholly owned subsidiary of sawmill and plywood mill equipment manufacturer USNR. For more information about Mid-South Engineering, please contact Marc Stewart at 501-321-2276.

Mid-South Engineering will be at Booth #644 at the Forest Products Machinery & Equipment Expo in Atlanta, GA from June 26-28, 2019. Learn more about the expo here. Be sure to stop by our booth to see how drone imagery and 3D design can be used on your next project. We will have virtual reality software in our booth for you to experience immersive design first hand. While you're there, drop off a business card to enter a chance to win a FREE drone flight of your site. We hope to see you all later this week!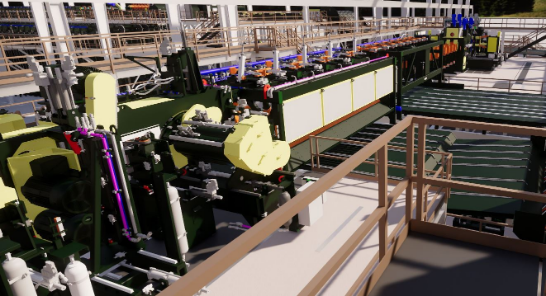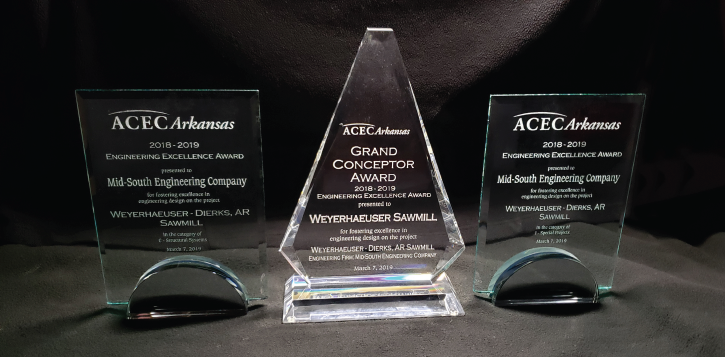 Mid-South recently received three Engineering Excellence awards for its work on a new 388 MMBF Weyerhaeuser sawmill in Dierks, Arkansas; including the top award of "Grand Conceptor". The awards were given by the Arkansas branch of the American Council of Engineering Companies. In addition to the overall award, Mid-South Engineering's design took first prize in two categories – Large Special Projects and Large Structural Systems.
The Weyerhaeuser-Dierks sawmill was an immense project. Here are a few statistics:
8,500 engineering drawings
45,000 tons of concrete
1,500 tons of structural steel
750,000 cubic yards of dirt work
1,000+ pieces of equipment
58,000 feet of underground electrical conduit
23,000 HP connected
9 transformers (8 x 2000 kVA + 1 x 5000 kVA)
608,000 square feet of metal buildings
Mid-South provided conceptual and feasibility study assistance for this sawmill in addition to the detailed design effort which included: plant layout, civil design, foundations, structural steel and power distribution.  Mid-South also generated and reviewed bid specifications.
Code Matters by Karen Griffin, Staff Architect, Mid-South Engineering, Hot Springs, AR
"How do I classify an electrical room located inside a larger building, and is it required to be fire-rated or sprinklered?"
Continue reading in the Barn Raiser
USNR announced that it has recently completed the acquisition of Mid-South Engineering Co., the leading consultant and provider of engineering services to the wood products industry in North America.
Continue Reading in the Barn Raiser

Join Mid-South Engineering on June 14-16, 2017 at the Georgia World Congress Center in downtown Atlanta for the 2017 Forest Products Machinery & Equipment Expo.
Sponsored since 1950 by the Southern Forest Products Association, the Forest Products Machinery & Equipment Exposition has provided the a venue for equipment manufacturers to display their products and services to the wood processing industry.
Check us out at Booth #1836. We will see you then!

Join us on April 10-12, 2017 for the 2017 International Biomass Conference & Expo at the Minneapolis Convention Center in Minneapolis, MN.
"International Biomass Conference & Expo unites current and future producers of biomass-derived power, fuels and chemicals with waste generators, energy crop growers, municipal leaders, utility executives, technology providers, equipment manufacturers, project developers, investors and policy makers."
For complete information, visit the conference website at biomassconference.com
We look forward to seeing you there!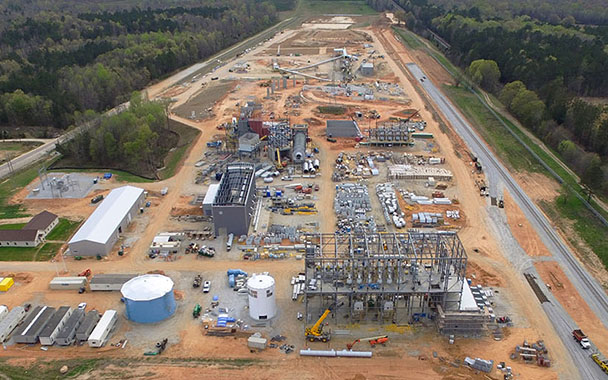 A great article talking about the Colombo Energy Wood Pellet Plant in this month's Wood Bioenergy Magazine, including a mention of Mid-South's efforts. This was a good project and Mid-South Engineering is happy to have been chosen to be part of the team.
Check out the Wood Bioenergy Magazine here.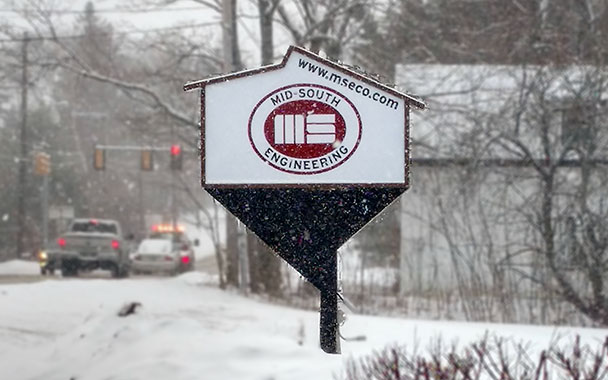 Mid-South Engineering Co., an Arkansas-based, full service consulting engineering firm announces the opening of its fourth office located in Orono, Maine. The new office, led by Walter Goodine, Director of Operations, allows Mid-South to better respond to its client's engineering needs in New England and Maritime Provinces. Orono, home of the University of Maine, is just north of Bangor.
"The addition of this location supports our firm's commitment to build on the success we have seen in the New England area," states Mid-South President, Jeff Stephens. "The new office location is convenient to the building products, paper and bio-energy markets we serve and provides ready access to the professional talent to grow our staff."
About Mid-South Engineering –Founded in 1969, Mid-South is a full service, consulting engineering firm that provides a broad range of professional engineering services. Our multi-disciplined staff has served state and local governments as well as industrial and commercial clients with a particular expertise within the building products industry.