Mid-South Engineering Celebrates Fifty Years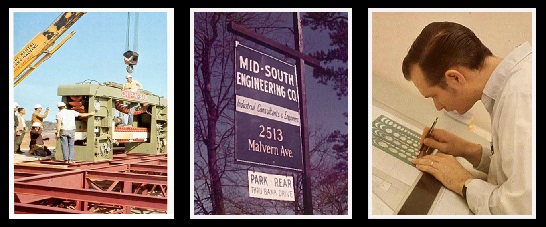 In 1969, Mid-South was founded by four engineers with a common vision – to be a complete engineering service provider focused on total dedication to the client. The path to their goal was simple: work with good clients, select and train good employees, delegate authority, and allow room for the proper execution of the job.
Over the past fifty years, Mid-South Engineering has served as a trusted independent consultant to the wood products industry, delivering a full range of engineering services, including civil, structural, mechanical, electrical, and architectural engineering, project development, project management, and construction services.
We'd like to thank all of our clients and vendors for the confidence they place in us on every project. We are excited to see what the next fifty years will bring to the wood products industry.
Timeline
In 1969, Roy Murphy, Larry Stephens, Jack Copeman, and LC Gaither decided to start Mid-South Engineering Company following the acquisition of their employer, Dierks Forests, Inc. of Hot Springs, Arkansas by Weyerhaeuser.
2006 saw Mid-South Engineering add to its industry reach by bringing CPM Engineering Services of Cary, North Carolina into the group, enabling better service clients in the eastern United States.
Mid-South expanded again in 2013, adding the talents of D&S Engineering in Millinocket, Maine, to enhance the company's paper mill and power experience for clients in the northeast.
Towards the end of 2017, Mid-South became an independently managed, but wholly owned subsidiary of sawmill and plywood mill equipment manufacturer, USNR.
In the third quarter of 2019, Mid-South extended and strengthened its sawmill and pellet mill expertise into Western Canada, the Pacific Northwest, Australia, and New Zealand with the addition of Stolberg Engineering of Richmond, British Columbia.
This month Mid-South celebrates fifty years of providing engineering solutions for customers from all over the world.
NewslettersNov 22nd, 20190 comments