Mid-South Acquires Stolberg Engineering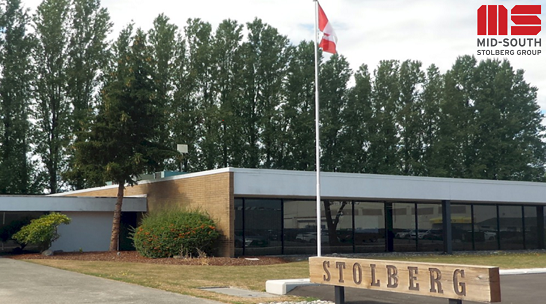 Mid-South Engineering of Hot Springs, Arkansas, is pleased to announce that it has acquired Canada's Stolberg Engineering. Going forward, Stolberg Engineering will operate from its office in Richmond, BC, as the Mid-South Engineering Stolberg Group, where it will continue to be led by industry veterans Norm Stolberg and Rod Gronlund.
Marc Stewart, President of Mid-South Engineering, commented, "The Stolberg team is widely respected and the company has a rich history over the nearly 40 years it has been providing engineering services to the building products and wood pellet industries. This acquisition really strengthens our team and launches Mid-South into a whole new region." ​
Marc explained further that the combination is expected to allow Mid-South and Stolberg team members to expand their professional experiences by being part of a broader team – both groups will be able to bring additional expertise and services both to their respective existing clients, and to new clients in wood products related industries.​  Together, Mid-South and Stolberg can handle the challenges of large-scale industrial projects across virtually all of the wood processing regions in North America.
Says Rod Gronlund of Stolberg, "I'm really looking forward to being a part of this larger combined organization: I think our clients will appreciate the greater depth, capacity, and range of services that we will be able to offer as part of Mid-South. It will be great to see the Stolberg legacy continue on." Norm Stolberg adds, "I think our construction background and experience in the industry will bring another facet to the combined group and we look forward to continued growth and enhanced opportunities as we integrate the legacies of these two great companies."
All Stolberg staff will continue to work out of the company's existing offices in Richmond, BC, and will carry on serving clients with ongoing projects.  The cohesion of these two independent engineering firms will enhance the wood processing industry with coordinated and professional engineering services that are second to none.
Mid-South Engineering. Experience and innovation working for you.
Stolberg Engineering was founded in 1980 as an offshoot of Stolberg Construction, which had been building plants and installing equipment for the wood products industry across Western Canada since the late 1940s. Today Stolberg employs 21 engineers, draftsmen, project managers, and support staff, including four licensed engineers, and regularly serves clients across Canada, the Northwest U.S., Australia, and New Zealand. For more information about the Stolberg Group, please contact Norm Stolberg or Rod Gronlund at 604-273-1915.
Since 1969 Mid-South Engineering has served as a trusted independent consultant to the wood products industry, delivering a full range of engineering services, including civil, structural, mechanical, electrical, and architectural engineering, project development, project management, and construction services. Mid-South is headquartered in Hot Springs, Arkansas, and has additional offices near Raleigh, North Carolina, Bangor, Maine, and now with the addition of the Stolberg Group, near Vancouver, BC, as well. Since 2017, Mid-South Engineering has been an independently managed, but wholly owned subsidiary of sawmill and plywood mill equipment manufacturer USNR. For more information about Mid-South Engineering, please contact Marc Stewart at 501-321-2276.
NewslettersNov 18th, 20190 comments