Mid-South Projects Recognized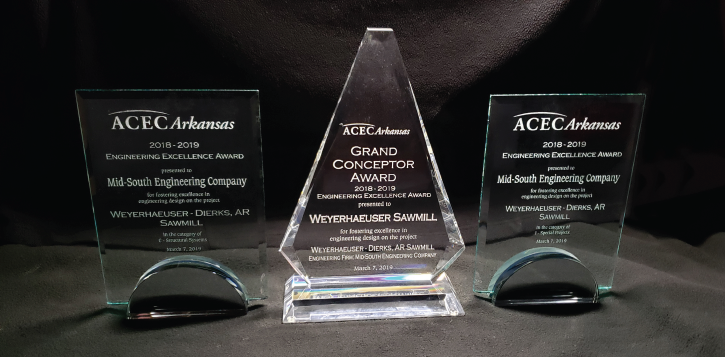 Mid-South recently received three Engineering Excellence awards for its work on a new 388 MMBF Weyerhaeuser sawmill in Dierks, Arkansas; including the top award of "Grand Conceptor". The awards were given by the Arkansas branch of the American Council of Engineering Companies. In addition to the overall award, Mid-South Engineering's design took first prize in two categories – Large Special Projects and Large Structural Systems.
The Weyerhaeuser-Dierks sawmill was an immense project. Here are a few statistics:
8,500 engineering drawings
45,000 tons of concrete
1,500 tons of structural steel
750,000 cubic yards of dirt work
1,000+ pieces of equipment
58,000 feet of underground electrical conduit
23,000 HP connected
9 transformers (8 x 2000 kVA + 1 x 5000 kVA)
608,000 square feet of metal buildings
Mid-South provided conceptual and feasibility study assistance for this sawmill in addition to the detailed design effort which included: plant layout, civil design, foundations, structural steel and power distribution.  Mid-South also generated and reviewed bid specifications.
NewslettersNov 18th, 20190 comments