Mid-South Celebrates Milestone Achievements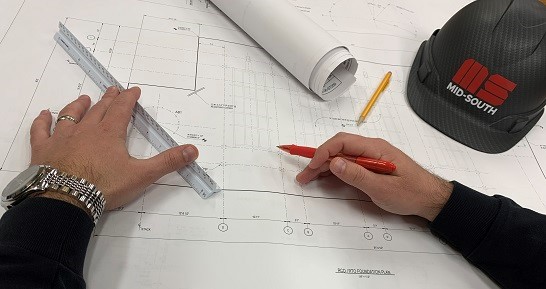 Attaining the appropriate licensures is a vital component of an engineer's career. Licensure is typically accompanied by an increase in responsibility. We want to take a moment to congratulate members of our team on their recent accomplishments.
The following individuals put in a lot of time and effort and recently passed the Principles and Practice of Engineering exam, earning their PE certifications, and starting the next step in their journey as Professional Engineers:

Everett Bennett, PE works as a Project Manager in our Orono, Maine office. He joined the team at the beginning of 2018 and has completed multiple planermill projects both on budget and schedule. Outside of his work at Mid-South, Everett is the instructor and mentor for a robotics team at Brewer High School that recently placed in the top 10 in a competition of over 200 teams in New England.

Matthew Nevells, PE joined our Mid-South family in August of 2019 working in the Mechanical Department of the Orono, Maine office. Matt previously worked in the pulp and paper industry in positions ranging from Reliability Engineer to Regional Manager for an industry provider. In addition to project work, Matt is also developing a Reliability Engineering offering to broaden Mid-South's capabilities and has recently completed the first reliability project for a motor shaft failure at a biomass facility.

Lauren Nufer, PE works as an Engineer in our Project Planning and Development Group and joined our Hot Springs team in 2014. Lauren earned a Master's Degree in Mechanical Engineering from the University of Memphis. She specializes in Project Estimating and Project Management and is currently managing multiple large wood pelleting projects.

Gabriel Peret, PE works in the Hot Springs Office as the Design Drafting Manager and joined the Mid-South team in 2014. Coming to Mid-South from FMC Technologies in Texas, his area of expertise is in mechanical and machine design. Gabe took the PE exam in Texas and believes his work experience and education prepared him well for the exam.
In addition, three of our young engineers recently passed their Fundamentals of Engineering (FE) exam, gaining the Engineering in Training (EI) title and becoming one step closer to their goals of becoming Professional Engineers.

Dylan Earl-Johnson, EI works as an Engineer in our Structural Department and joined our Orono, Maine team in 2018 as an intern before being offered a full-time position upon graduation from the University of Maine in May 2019. He designs steel, concrete, and wood structures, as well as completing structural analyses using finite element analysis software. He is also proficient in Revit.

Thomas Ford, EI joined our Structural Department in the Cary, North Carolina office as an Engineer in January of 2018, upon graduation from Clarkson University. He specializes in 3D design and analysis in tools such as RISA and Revit. His developing knowledge of code requirements will continue to guide him in his career.

Adam Palmer, EI joined the Electrical Department in our Hot Springs, Arkansas office as an Engineer in June of 2015. Adam graduated from Arkansas Tech University and worked for a pipe manufacturer for a few years prior to joining the Mid-South team. He is proficient in Visual, which is a program used to run lighting fixture simulations to produce a side by side comparison used to determine the most economical fixture for the facility in terms of quantity needed and electrical load required.
Nicely done! We are proud of you.
NewslettersDec 12th, 20190 comments