Mid-South engineers mentor First Robotics Competition (FRC) team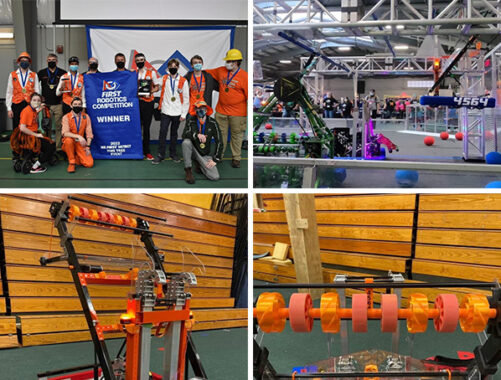 Two Mid-South employees, Everett Bennett and Alex Carroll, mentor a First Robotics Competition (FRC) team. FIRST® inspires young people to be science and technology leaders and innovators by engaging them in exciting mentor-based programs that build science, engineering, and technology skills, inspire innovation, and foster well-rounded life capabilities including self-confidence, communication, and leadership. The team from Brewer High School, Team 4564 Orange Chaos, is sponsored by Mid-South. Everett and his son Drew, a Mid-South Scholarship recipient, started the team in 2012. Everett is the Lead Mentor and a mechanical mentor. Alex started mentoring the team in mechanical and 3D CAD in 2021.
The team had a very successful weekend at the Pine Tree Qualifying event, the team's first live competition in two years due to Covid. The team qualified 9th out of the field of 26 robots after 12 qualifying matches. The team was the first pick of the third alliance captain in their effort to build a winning alliance of three robots for the playoff matches. Their alliance went on to defeated the sixth alliance, then the second ranked alliance and finally the first ranked alliance, all in double eliminations, to win the entire competition. This is the team's third qualifier win in the team's 10-year history. The win ranks the team 9th out of 185 teams in the New England District and earns the team an invite to participate in the New England District Championship in Massachusetts. The team has earned multiple judged awards for various design and competition aspects of their robots over the years.
In FRC, a new "Challenge" is revealed globally the first Saturday of each year. Teams have 7 weeks to design, construct, program and test their robot to complete the challenge. Robots compete in an alliance with two other robots against an opposing alliance of three robots on a 27′ x 54′ competition field where game pieces are manipulated by the robots into various elements on the field to score points.
NewslettersMay 3rd, 20220 comments